For those who don't know, BGG Spring Con is the BoardGameGeek Convention held annually over Memorial Day Weekend in Dallas, TX. BoardGameGeek is a website that provides a gathering place for those who enjoy hobby board games to learn about games, share experiences, and just hang out with like-minded individuals.
I attended my first BGG Spring Con last year, then went to the main BGG.Con with my wife Claire in the Fall (to read more about that experience, click here). I already knew what to expect from BGG Spring and this year didn't disappoint.

So what is BGG Spring like?

BGG Spring is very similar to BGG.Con, just much smaller. This year the con had a little over 1,500 attendees, the largest it's been so far, compared to BGG.Con which had close to 3,000. The Spring Con is much more laid back, plus it's easier to find a table and to find the game you want to play in the library. I think between the two I prefer the Spring Con, though it is fun to run into more "celebrities" and see more vendors at the main BGG.Con.
At registration we received three free games this year. I picked 3-4 Headed Monster, Breitenfeld (a Decision Games War Game Module), and Piratoons (a game about building pirate ships that I'll be trying with the family).

Charity Sale

This year BGG decided to sell off some of their games to raise money for Cafe Momentum, a charity/restaurant that hires youth being released from juvenile detention to provide job training, mentorship, and support. BGG brought 2,000 games from their collection in storage that isn't part of the library, and sold most of the games for $10 each (a few "grail games" were priced to their value, like a copy of 18OE that they were asking $400 for). Through the sale BGG raised $17,000 for the charity, so I think it is safe to say this was a huge success and they'll likely repeat the sale next Spring.

Not having a large game buying budget at the moment I was only looking out for games that I was already interested in that were available. While looking around I found a German copy of the game Chicken Cha Cha Cha which I've heard is a great kid's game, and a copy of Going, Going, Gone! a real time auction game with very simple rules that seems like it would be good for large groups, and for teaching the kids a little about how the stock market works, since it is also a kind of real time auction.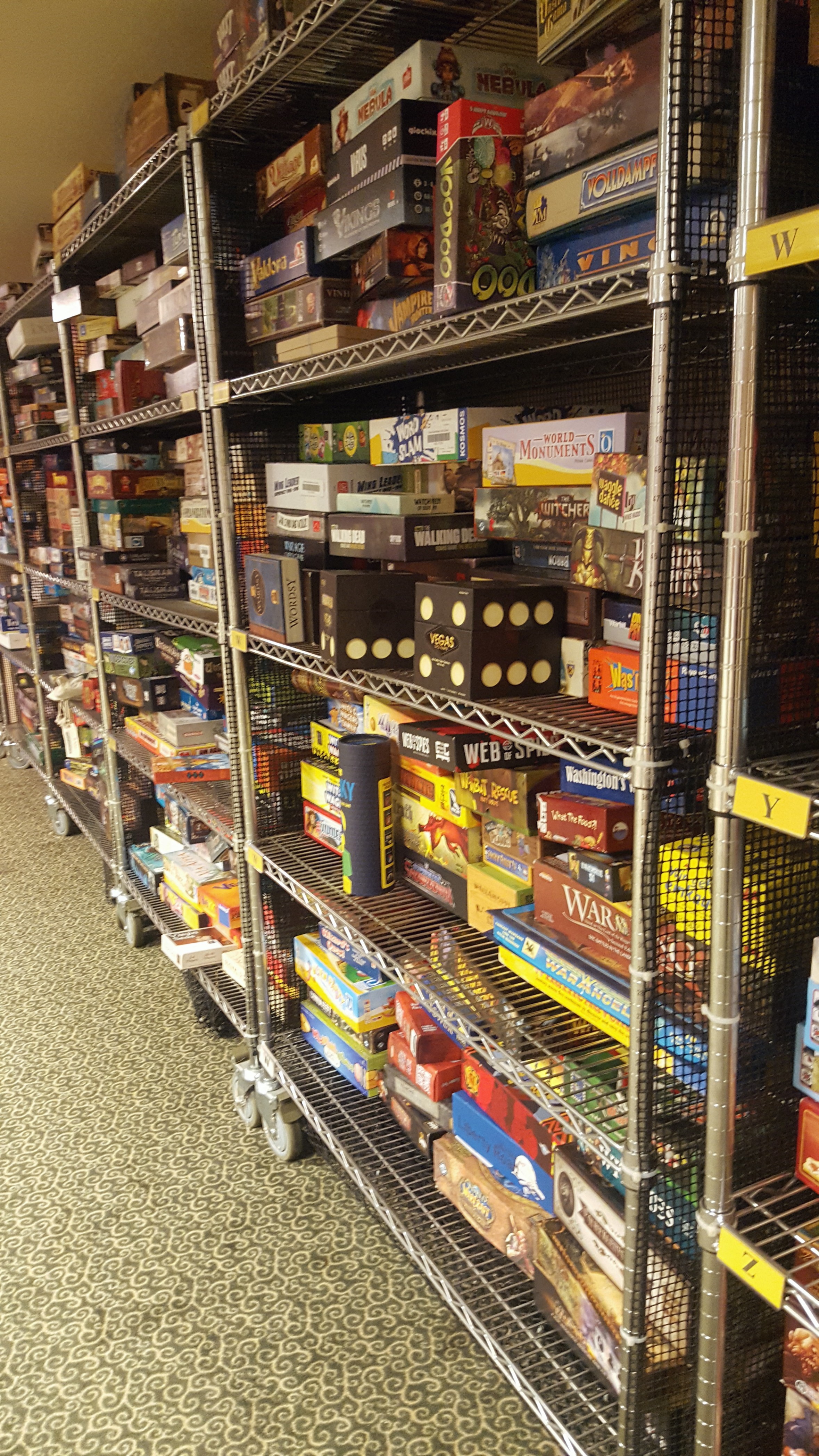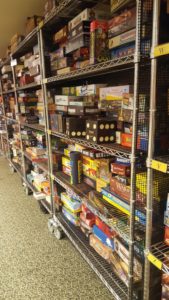 The Game Library

The game library at BGG.Con has 3,000 titles selected by the BGG staff with requests made by the community ahead of time. A large portion are new and/or hot games, most of which had been released in the past couple of months. The library is constantly being updated as new games are released, and older games that no one has checked out recently are put in storage.

Several games are easier to come by in the Spring, both because they are in broader distribution (there were three copies of Gaia Project instead of just one), and because half the number of people are there to check out the games.

You can check out one game at a time and keep them out for either 4 hours for the new games or 8 hours for the older titles. So our group would go down to the library, come back to the room we'd staked out that was both quieter and not as chilly as the main halls, then choose which of the games we'd just picked up to play first. In total I played 23 games during the convention, most of which were new to me, though occasionally we'd take a break from learning new rules to play a game we'd all played before.

The Vendor Hall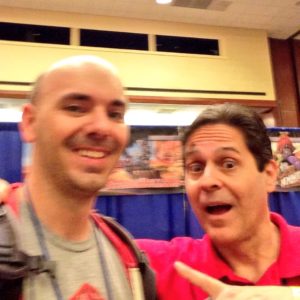 In between games I walked by the vendor booths. There are a lot fewer vendors at Spring Con, so they are on the two sides of the main gaming hall. I stopped at the Stronghold Games booth for another picture with Stephen Bounocore, the owner of Stronghold, and watched a demo that was going on of SteamRollers, which is about to become widely available. I had already spent my Con budget so I didn't buy the game, but this is definitely a game I'll be buying. It is a train-themed roll and write game (think Yahtzee) where you are using your dice rolls to build tracks, fuel up your engine, or gain special actions. It plays with 1-5 players in 30-45 minutes, and seems like a game Claire and I would enjoy together and could play in the evenings rather easily.

One of my friends scheduled a demo for us of Chronicles of Crime from Lucky Duck Games. This game uses Virtual Reality, using a set of glasses that attach to your phone, in addition to QR Codes to reveal information to you as you try to solve different crimes. The system was a little wonky, but overall VERY cool. A friend Kickstarted the game and I'm looking forward to exploring it a little more once he receives it.

We also visited the Iello booth to look at Decrypto, and of course the BGG store to look at promos and the Con t-shirts.

Giveaways
Sunday night there was a large raffle where they gave away around 20 stacks of games from different publishers and sponsors. The raffle was less exciting than at the main BGG.con, but then there are fewer sponsors for the Spring, and so fewer giveaways. This time we were able to claim a gaming table in the room beforehand so that we didn't have to crowd into the doorway while they called numbers.

Favorite Games of the Con
This year, there were two main games I really wanted to play, and I was able to play both. They also ended up being my two favorite of the Con.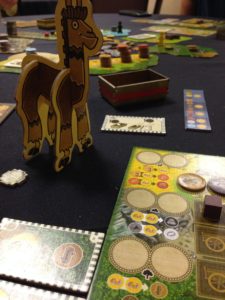 Altiplano came out at Essen last year. It's a "bag building" game where you acquire resources to add them to your draw-bag. Then each 
turn you draw resources from your bag to acquire more or better resources, to unlock the ability to draw more resources, or to get buildings or other items that help you score points. This game was also an interesting experience because when we opened it up we saw that it was entirely "unpunched". So we had the pleasure of being the first to play this particular copy. The game was amazing, we had a great time, and with three of us we each took a different strategy tryin
g to win and were all very close. Unfortunately, while the game was great, the production was not. The cardboard for many of the tokens was badly warped, with the printing nearly coming off many of the pieces. This was the new Renegade Studios version. I don't know if the original printing by dlp games is the same (which has both German and English rules, so it may be worth tracking down one of these copies).

Food Chain Magnate has been on my radar for a few years now. It's published by Spotter Spielen, and I really enjoy the few games of theirs that I've played. In Food Chain you start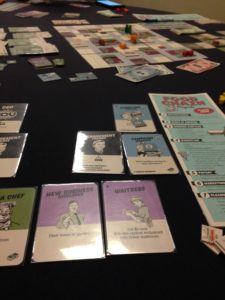 with one restaurant and yourself as the CEO. Each turn you can hire more workers who will be able to do things like hire others, buy drinks to sell, make food to sell, advertise your restaurant, etc. If you advertise well, and are able to meet the demand that has been created, hire and train the right staff at the right time, and don't overextend yourself, then you might end up with the most money at the end of the game and come out the winner. I loved the game. The decisions were small enough that you weren't overwhelmed, but meaningful enough that you could lose the game by making the wrong moves in the first few turns. I can see that this is a game that benefits from all players being of roughly the same experience level with it as a brand new player will make mistakes that an experienced player will be able to take easy advantage of. I added this to my buy list so the next time I have $100 burning a hole in my pocket I'll be picking up a copy.

Gaming Stats
Games Played: 23
New-to-me Games Played: 11
2017 Releases Played: 8
2018 Releases Played: 3
Games Played Multiple Times: 4
New (free) Games Acquired: 3
New (used) Games Acquired: 4
Games Won: 15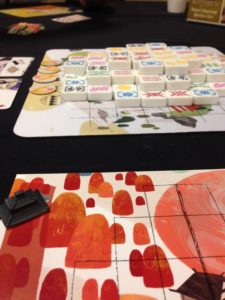 Games Played
Altiplano
Automobiles
Bard Saga
Chronicles of Crime
Dragon Castle
Ethnos (x2)
Food Chain Magnate
For Sale
Hansa Teutonica
Honshu (x2)
Keyper
Le Havre
Luxor

Oh My Goods! (x2)
Okanagan: Valley of the Lakes
Petrichor
The Quest for El Dorado (x2)
River Boat
Signorie