For those who don't know, BGG.Con is the BoardGameGeek Convention held annually the week before Thanksgiving in Dallas, TX. BoardGameGeek is a website that provides a gathering place for those who enjoy hobby board games to learn about games, share experiences, and just hang out with like-minded individuals. When Claire and I decided to move back to Texas, this was one of the things I was most excited for, being within driving distance of BGG.Con so we could actually attend.
Having gone to the 2017 BGG Spring Con, I had an idea of what to expect from an experience perspective. However, this time Claire was with me which made it all the more special.
It's four days of late nights, with a stack of games on the table ready to play. When you first arrive you get a badge and wristband, as well as two free games, and some giveaways in a swag bag (thank you Asmodee Digital for a download of Small World 2 from Steam). There are gaming rooms in the conference area, but also one on each floor of the hotel. Our group camped out mostly on the top floor since one of our group got a migraine on the first day and it was quieter there than in the other gaming rooms, plus there were windows, and it was down the hall from our room.
The Game Library
The game library at BGG.Con has 3,000 titles selected by the BGG staff with requests made by the community ahead of time. A large portion are new and/or hot games, most of which had been released in the past couple of months.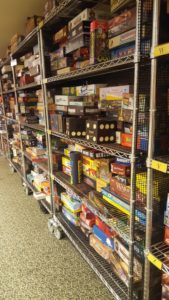 Many of those were actually purchased at the Essen Spiel Fare (one of the largest game conventions in the world that happens in Essen, Germany, where over 1,000 new games were released last month). Then the rest of the library is made up of everything from the perennial favorites like the Key Series, to the outright odd like Hinkel & Stein (a game--involving placing rocks on a see-saw--that's received some accolades from Heavy Cardboard and is now on my need-to-play list).
You can check out one game at a time, and keep them out for either 4 hours for the new games, or 8 hours for the older titles. So our group would go down to the library, come back to the 13th floor with a game each and then decide which game to start with. In total we played 27 games during the convention, most of which were new to me (I had such a good time playing Star Wars: The Queen's Gambit at the Spring Con that I made sure Claire and I played it this year).
The Vendor Hall
When we weren't playing or taking a break for meals, we wandered the exhibitor booths where we demoed a couple of games, ogled the cool swag, or walked around looking at the games being played. We stopped at the Stronghold Games booth and tried Fabled Fruit which Claire really enjoyed. The game slowly evolves and changes as you play, and if you keep the deck how it was when you're done you can keep the same game state for your next play. We also stopped at Passport Game Studios to play Entropy, a light card game where you pick your action by playing a card, but if someone else chose the same action neither of you can do the action.
Meeple Realty was one of our favorite stops with their very cool wooden box inserts to organize your games. A few friends picked up the inserts, as well as a small hammer to help put the inserts together. The Broken Token had some amazing metal coins to use in different games, which I seriously considered buying. Claire also stopped by Big Kid Games to play Sweet Mess which will be coming out on Kickstarter soon.
Celebrity Sightings
We also chatted with Rich Sommer of Mad Men fame, who is an avid boardgamer, and has the podcast CARDBOARD! When I say chatted, I should say that I embarrassed Claire who was trying to quietly point Rich out to me, so I turned around and introduced myself and Claire to him, while mentioning her whispered Mad Men comment. Rich responded with humor and grace, which helped soften her embarrassment. I also made a point to find and talk to Edward from Heavy Cardboard, a podcast I started listening to recently that focuses on the nice meaty games in the hobby.
Giveaways
Saturday night there was a large raffle where they gave away around 60 stacks of games from different publishers and sponsors, as well as a trip. It seemed like everyone around us won, and one of the winners was one digit away from Claire's raffle ticket. Even though the number was not hers, the fact that it was "so close" was both exciting and irritating. Maybe next time, though we will try to claim a gaming table earlier in the day so we can be gaming while they announce the numbers.
Favorite Games of the Con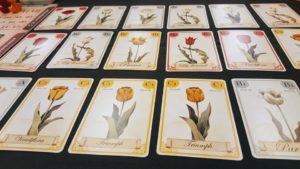 The games we most enjoyed are two from Moaideas, a Taiwanese publisher that I wasn't familiar with before the Con. I'm now on the lookout for the rest of their games because both Mini Rails and Tulip Bubble were massive hits with our group. Tulip Bubble is a gorgeous game based on buying and selling tulips during the Dutch tulip bubble of 1637. During the game the price of different types of tulips will fluctuate until the bubble finally bursts, and whoever has the most money at the end of the game wins. It was simple, but very compelling with a little bit of control over the market. The other game, Mini Rails, was a very nice abstraction of a typical train game. On your turn you either buy stock in a rail company or build additional rails for a company. Everyone will do both these actions each round, and after 6 rounds the game is over. Again a very simple game to play that has multiple levels of strategy, making it a great game to play with non-gamers.
Gaming Stats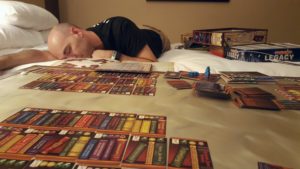 Games Played: 28
New-to-me Games Played: 21
2017 Releases Played: 18
Games Played Multiple Times: 3
Number of people played with: 27
New (free) Games Acquired: 7
And my favorite stat:
Games Won: 8
Games Claire Won: 9
(See, I don't win ALL of the time…)
Games Played
Clans of Caledonia
The Climbers
Entropy
Ex Libris
The Expanse Board Game
Fabled Fruit
Gaia Project
Harvest Island
Heaven & Ale
Iberian Rails
Istanbul: The Dice Game
Key to the City: London
Loot Island
Medici
Mini Rails (x3)
Nusfjord (x2)
Okanagan: Valley of the Lakes
Petrichor
Sakura
Star Wars: The Queen's Gambit (x2)
The Thing: Infection at Outpost 31
Transatlantic
Tulip Bubble
Two Rooms and a Boom